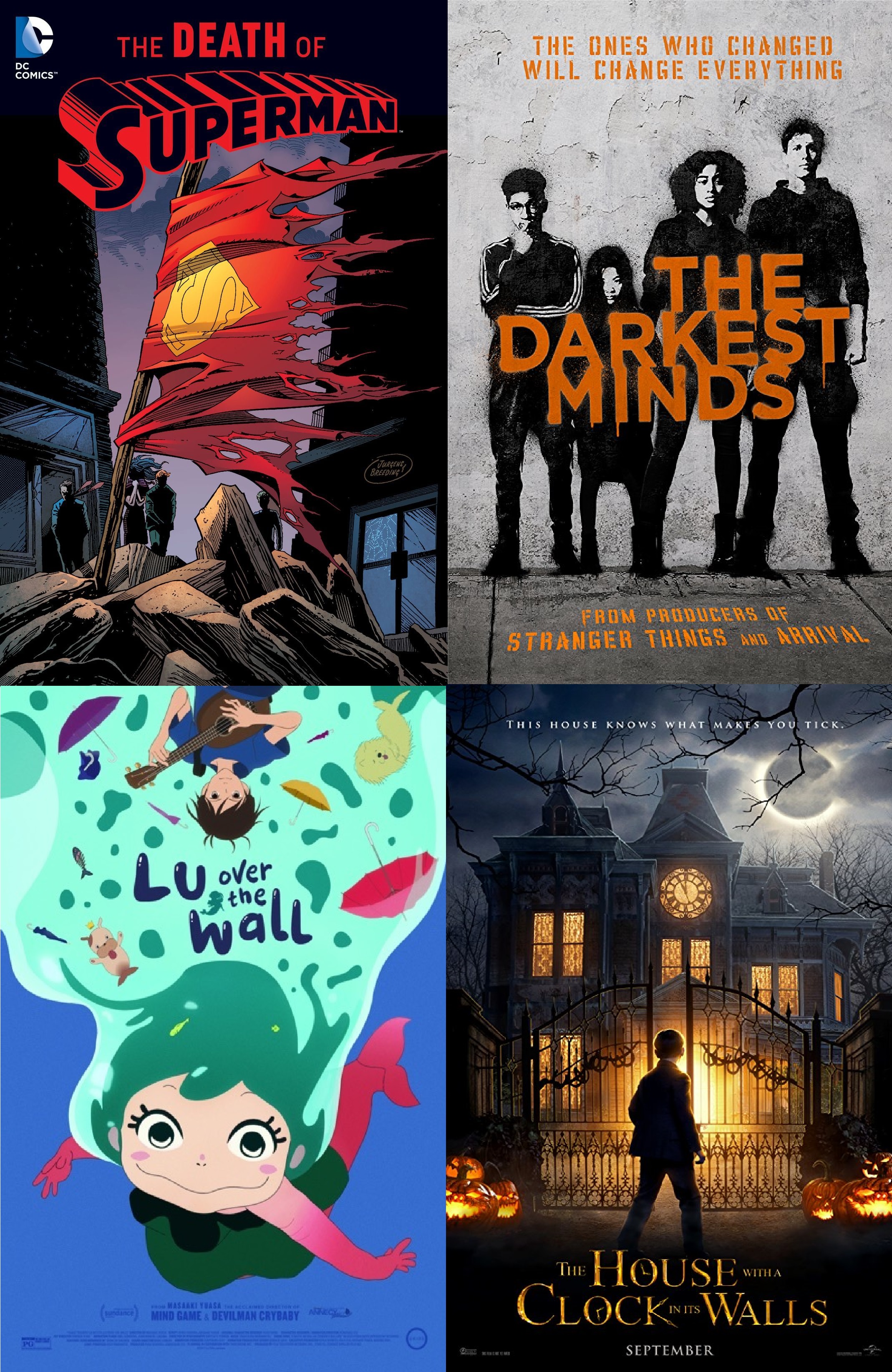 Nueva tanda de películas esperadas en este recuento expectante #8.
La Casa con un Reloj en sus Paredes – The House with a Clock in its Walls
Basada en la clásica novela infantil escrita por John Bellair e ilustrada por Edwars Gorey, cuenta el mágico y escalofriante relato de Lewis, un niño de 10 años quien, tras quedar huérfano, se muda a la vieja y rechinante casa de su tío, la cual tiene un misterioso reloj. Pronto, la aburrida y tranquila vida de su nuevo pueblo se ve interrumpida cuando accidentalmente, Lewis despierta a magos y brujas de un mundo secreto.
https://www.youtube.com/watch?v=0bStflyr9a8
The Darkest Minds – Mentes Poderosas
Luego que una enfermedad acabara con el 98% de los niños en Estados Unidos, el 2% sobreviviente desarrolló súper poderes y fueron llevados a un campo de concentración. Una joven de 16 años se une a un grupo de adolescentes huyendo del gobierno.
https://www.youtube.com/watch?v=LNMVi-m4STg
The Death Of Superman – La Muerte de Superman
Próxima entrega de la serie de películas animadas de DC – Warner, que se dividirá en dos partes, esta primera basada en el evento de los Comics del mismo nombre "The Death of Superman" escritos en 1992 por Dan Jurgens que culminaba con el enfrentamiento entre Superman y Doomsday y además originaba el que se llamó "Reign of the Supermen" que será la segunda parte de estas películas y presentaba a cuatro nuevos Supermanes: Steel, Cyborg Superman, Superboy y The Erradicator.
https://www.youtube.com/watch?v=IEZkwraCDYY
Lu Over the Wall – 
夜明け告げるルーのうた
Kai es un joven estudiante de escuela melancólico cuya vida cambia cuando conoce a Lu una sirena.
https://www.youtube.com/watch?v=lTJhWsaHCzA
https://www.youtube.com/watch?v=vV7E6ZNyZgI
---