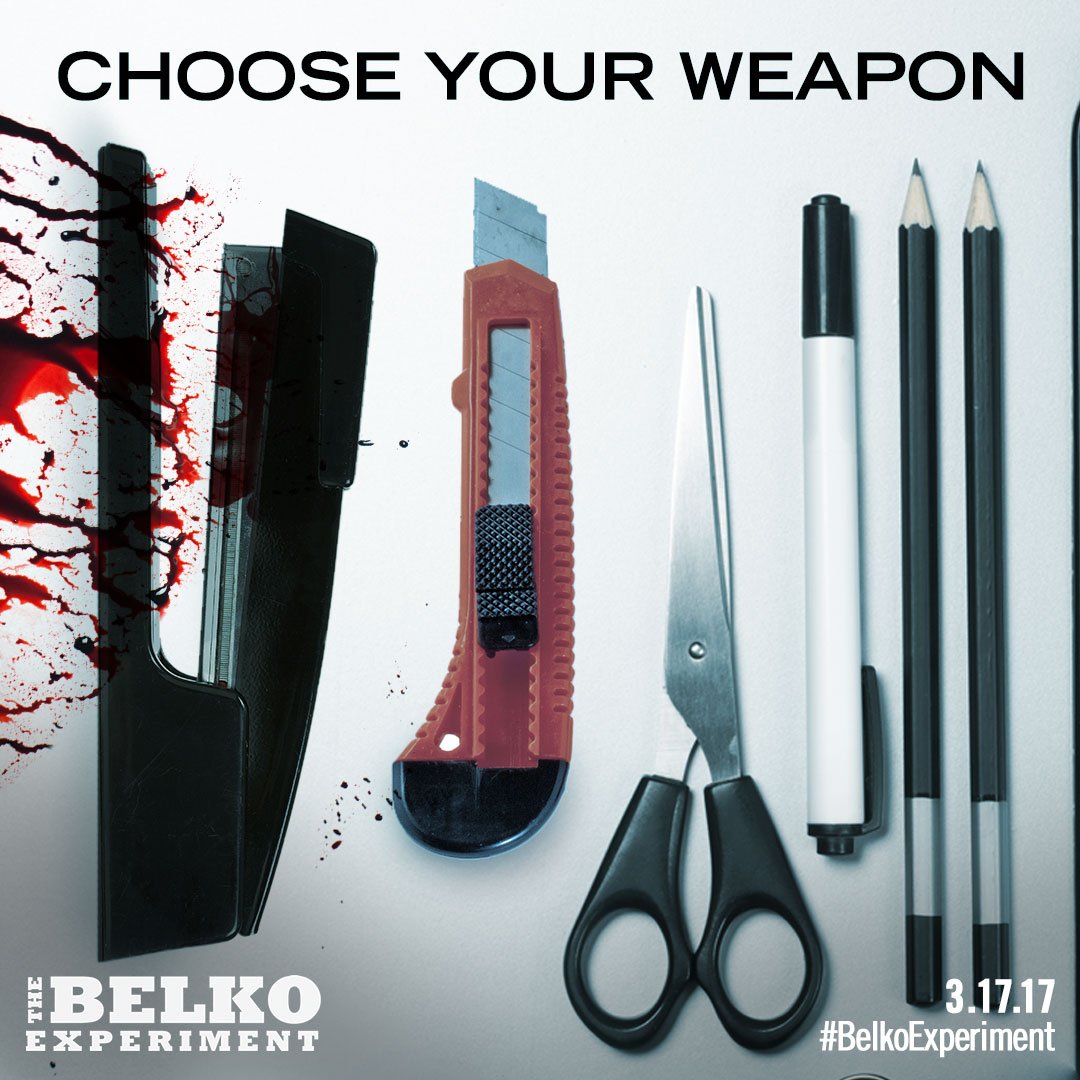 THE BELKO EXPERIMENT
En un retorcido experimento, 80 estadounidenses son encerrados en las oficinas corporativas de su compañía ubicada en Bogotá Colombia y ordenados a través del sistema intercomunicador a participar en un juego mortal, asesinar o ser asesinado.  Ya habíamos publicado su trailer y está en nuestra lista de películas para el 2017.
https://www.youtube.com/watch?v=3t0eWymWyd0
https://www.youtube.com/watch?v=0peabkCxPyE
https://www.youtube.com/watch?v=4WcG4fdwYqo
TABLE 19
Eloise atiende a una boda de la que hacía parte como una de las damas de honor pero eso había cambiado después que el padrino le terminara por mensaje de texto. Así termina en una mesa al final del salón junto a un grupo de desconocidos, todos ellos que debían haber agradecido la invitación y no asistir. Eloise descubrirá lo que se puede aprender y vivir bajo esas extrañas circunstancias.
https://www.youtube.com/watch?v=o37nxQaMOA0
https://www.youtube.com/watch?v=m_cJNpDJxZQ
The Void
Segundo Trailer de esta historia de terror en la que un oficial de policía asiste a un hombre ensangrentado en el desierto, el hospital al que lo lleva es rodeado por encapuchados (como en un culto) mientras el personal y pacientes van enloqueciendo y poniéndose violentos. Tratando de proteger a los sobrevivientes se dirigen a lo profundo del hospital donde encuentran la puerta a una inmensa maldad. Ya hablamos del primer trailer aquí en AudioMu de The Void.
https://www.youtube.com/watch?v=lgBWpyNXxXI
HERE ALONE
Una joven lucha para sobrevivir por si sola en el brote de una misteriosa epidemia (zombies) que ha decimado la sociedad y la ha forzado a refugiarse en lo profundo de una zona selvática.
https://www.youtube.com/watch?v=XV6d_EEQnt8
Continuamos con una pequeña tanda de Netflix: Bright, War Machine y Sand Castle.
BRIGHT
Estreno original de Netflix con Will Smith, ambientado en un mundo donde criaturas místicas conviven con los humanos, un policía es obligado a trabajar junto a un orco para encontrar un arma por la que todos están dispuestos a matar.
https://www.youtube.com/watch?v=XGggUyz0k6s
WAR MACHINE
Netflix y Brad Pit recrean la historia, en una mezcla de realidad y parodia, del ascenso y desplome de un general de cuatro estrellas que comanda las fuerzas de la ONU en Afganistán que es arruinado por un reportaje. Inspirada en el libro del fallecido periodista Michael Hastings "The Operators: The Wild & Terrifying Inside Story of America's War in Afghanistan".
https://www.youtube.com/watch?v=MMJDf8IZ8qU
SAND CASTLE
Durante la ocupación de Iraq un escuadrón de soldados estadounidenses trata de proteger un pequeña villa. Protagonizada por Nicholas Hoult, Henry Cavill, y Glen Powell.
https://www.youtube.com/watch?v=2Zjd3iuuS7M
NAKED
Marlon Wayans interpreta un hombre al borde de los nervios debido a que finalmente se va a casar y [de alguna forma] se ve forzado a revivir una y otra vez el día de la boda hasta que logre que todo salga bien.
---